The Flint Street Nativity, by Tim Firth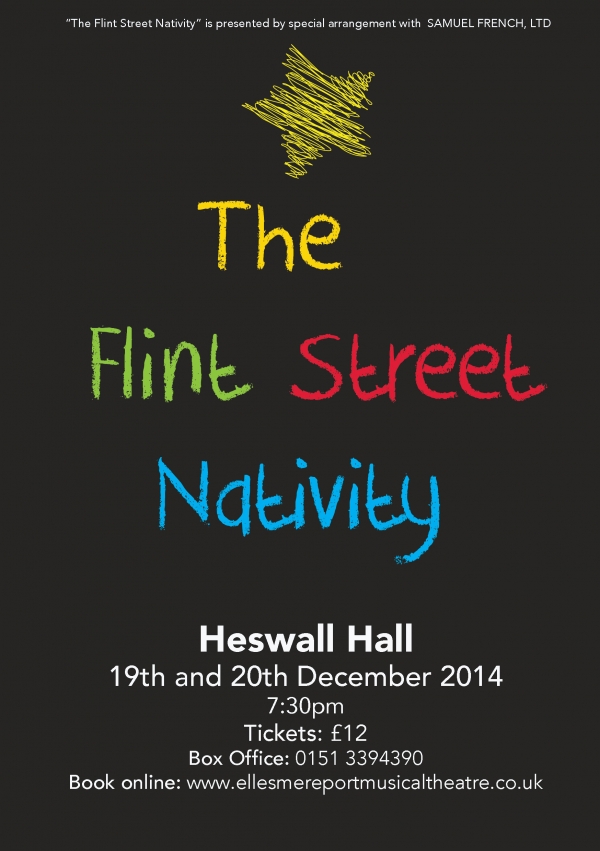 How to get there
19th December - 20th December
EPMTC are pleased to bring Tim Firth's, "Flint Street Nativity" to Heswall Hall this December.
The Flint Street Nativity
19th and 20th December 2014
Tickets: £12
Box Office: 0151 3394390 or book online by following the link above.
++Tickets are on sale from Sunday 7th September++
Synopsis
Flint Street Nativity shows Mizzis Horrocks' class of seven year olds as they prepare to perform and perform to their proud mums and dads. Squabbles arise when Gabriel wants to play Mary, the Star grumbles he's not a proper star like they have at NASA, Herod won't stop waving to his mum and dad and the subversive Innkeeper is determined to liven up the traditional script. And then the stick insect escapes... The children are played by adults, who later play their parents so the set changes accordingly to reflect the difference in scale. This musical play was first performed to critical acclaim at the Liverpool Playhouse.
Production Team
Director: Dawn Kennedy

Musical Director: Craig Price
Cast
Innkeeper (Bradley) - Stephen Hawkins

Star - Damian Riverol

Ass - Andy Nickson

Narrator - Kerry Jones

Herod/Joseph (Ryan) - Ian Devereux-Roberts

Wise frankincense - Kimberly Anderson

Mary (Jenny) - Anna Whittaker

Wise gold (Jess) - Sheryl Thomas

Angel (Shamima) - Donna Dale

Gabriel (Ashley) - Sasha Edge

Shepherd (Zoe) - Hayley Parker