Oliver! - At the Floral Pavilion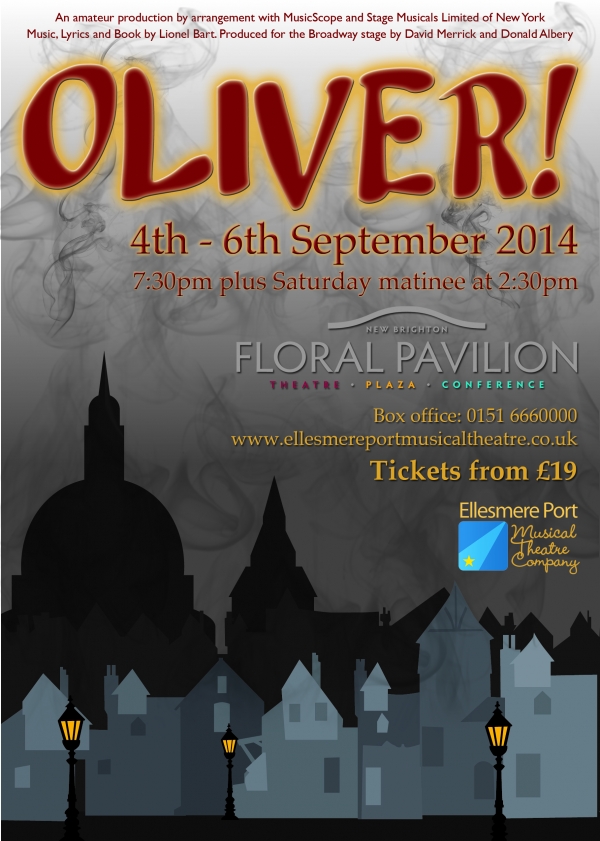 How to get there
4th September - 6th September
Oliver!
4th - 6th September 2014 (inc Saturday matinee)
Consider yourself one of us this September as EPMTC return to the Floral Pavilion, New Brighton, to bring you this favourite, feel-good, family musical!
Follow Oliver, the boy who dared to ask for more, as he meets an array of colourful characters including the Artful Dodger, Fagin and his gang of thieves, Nancy and Bill Sykes. Featuring the hit songs Where is love, Consider yourself, Food Glorious Food and Who will buy.
Production Team
Director: Donna Dale
Musical Director: Craig Price
Choreographer: Pam Watson
************************************
Cast
Oliver - Charlie Molloy
Fagin - Gareth Earl
Nancy - Sara Haynes
Mr Brownlow - Andy Nickson
Bill Sikes - Rob Poston
Bullseye - "Lulu"
Mr Bumble - Mike Heathcote
Widow Corney - Lesley Pritchard
Dodger - Jack Parry
Charley Bates - Jed Young
Bet - Anna Whittaker
Mrs Sowerberry - Sheryl Dean
Mr Sowerberry - Chris Pacitti
Noah Claypole - Greg James
Charlotte - Charlotte Allmond
Dr Grimwig - Ken Stamper
Mrs Bedwin - Elaine Cooper
Old Sally - Janette Heydon
Workhouse Children and Chorus
Megan Brocklehurst

Meghan Clifford

Amelia Hewitt

Claira Jervis

Emma-Louise Jervis

Izzy Johnson

Bella Kimmings

Yasmin Nuttall

Kaylee Paige Evans

Courtney Upfold-Roberts

Ellen Chapman

Katie Waddington
Workhouse Children and Fagin Gang
Charlie Molloy and Jack Parry (Oliver and Dodger)

Jed Young (Charley)

Molly Buxton-Allday

Heather Bunning

Ellie Brickland

Bethany Cox

Chloe Davies

Chiara Jones

Laura Smith

Lucy McCarthy

Jamie Molloy

Charley Mundy

Rachel Devaney

Joseph Cattrell
Music, Lyrics and Book by Lionel Bart. Produced for the Broadway stage by David Merrick and Donald Albery
An amateur production by arrangement with MusicScope and Stage Musicals Ltd of New York