My mother said I never should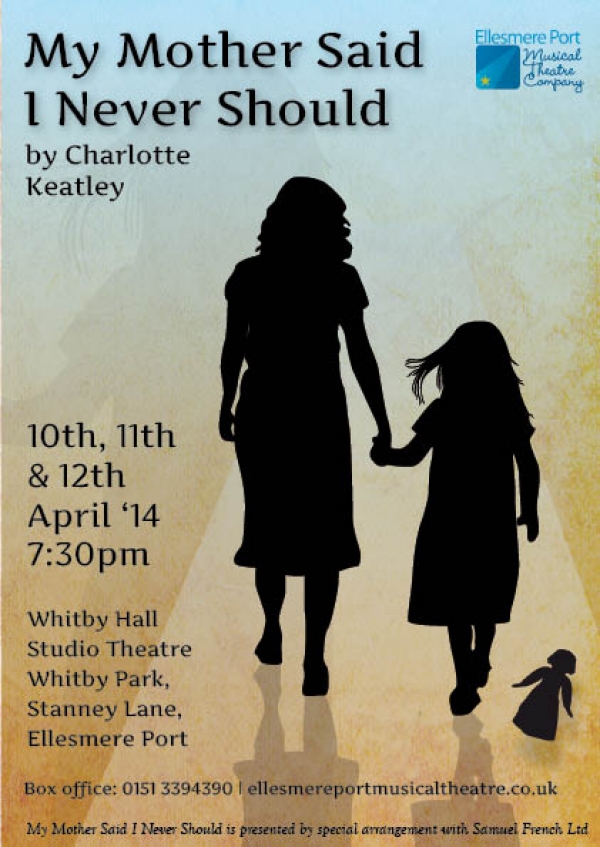 How to get there
9th April - 11th April
My mother said I never should - by Charlotte Keatley
Directed by Dawn Kennedy
10th, 11th and 12th April 2014
Whitby Hall Studio Theatre.
Whitby Park, Stanney Lane, Ellesmere Port
Tickets priced at £10 are available from the Box Office on 0151 3394390 or online by clicking here
Synopsis
"My Mother Said I Never Should" centres around the lives of four women each linked by parentage. The plot follows the lives of these women as they deal with social and cultural change, facing expectations of behaviour, social standing and class. We watch as relationships between Doris, Margaret, Jackie and Rosie are pushed to the point of no return secrets are made, kept and exposed. Lives change and affect each of the women when they are most vulnerable. It is a story of human nature, of the bond between mother and daughter, sister and grandmother.
CAST
Doris Partington - Mandy Helsby
Margaret Bradley - Sasha Edge
Jackie Metcalfe - Sara Haynes
Rosie Metcalfe - Leah Dovey-Evans
Director: Dawn Kennedy
What the press have said:
"A warm, poignant elegy about growing up, growing old and growing or not growing wise. It's about debts and responsibilities; the grim burden of puritan inheritance; and how it takes generations to learn about the value of real feeling." - London Sunday Times
"Both demanding and rewarding in its complexity." - London Independent
"Humorously and compassionately, the play explores the emotional inheritance each woman receives from the other ... unpeeling the characters to their bones, on occasions with such intensity that I cried." - London Guardian
"Totally engrossing, warm, funny, [and] human.... Ms. Keatley refuses to preach about a woman's nature and her place in the world." - Manchester England News
"Like Caryl Churchill's Top Girls, this is a play which will influence the next generation of writers." - City Limits
"My Mother Said I Never Should" is presented by special arrangement with SAMUEL FRENCH, LTD