Disco Inferno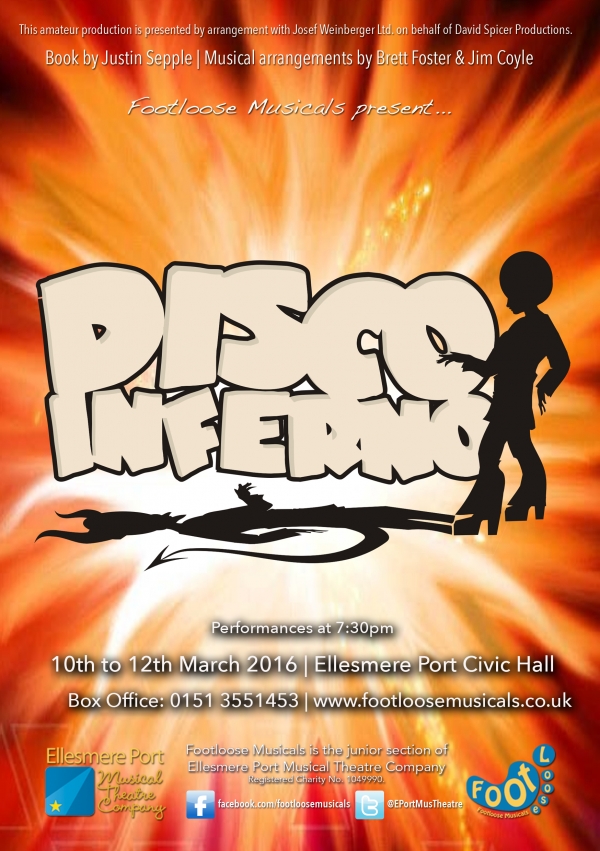 How to get there
10th March - 12th March
In 2016, Footloose Musicals, the junior section of EPMTC are pleased to bring you DISCO INFERNO! The devilish, hit 70s musical.
10th to 12th March 2016
Ellesmere Port Civic Hall
BOOK NOW
Footloose Musicals Box Office: 0151 3551453
Credits
Book by Jai Sepple
Musical arrangements by Brett Foster and Jim Coyle
This amateur production is presented by arrangement with Josef Weinberger Ltd. on behalf of David Spicer Productions.
Synopsis
It's the summer of 1976. Outside, the weather is as hot as the fashion and passion are on the dance floor and Jack is about to celebrate a 21st birthday he'll never forget. Working late in a London Dance Club, 'Disco Inferno', Jack meets Lady Marmalade – the devil's right hand lady. Dreaming of becoming successful, he makes a Faustian pact with her, trading his soul to fulfil his wildest fantasies. Sound like an ideal bargain? Think again. He becomes an instant and international success. However, success proves hollow. Jack has fame and fortune but is losing his girlfriend, Jane. If only he could turn back time and make one more trade, trading all he has for something far more important… love. This highly acclaimed musical combines a hilarious script, fantastic characters and a score of hits from an unforgettable era of glitter, flares and platform shoes. 'Disco Inferno' is a high energy musical guaranteed to warm hearts, get feet tapping and audiences leaving the auditorium with a daft grin of pleasure and the fondest memories of a sensational era. 'A night to remember'
Production Team
Director: Liz Legerton
Musical Director: Craig Price
Choreographer: Sue Hickman-Germon