Back to the 80s - The Totally Awesome Musical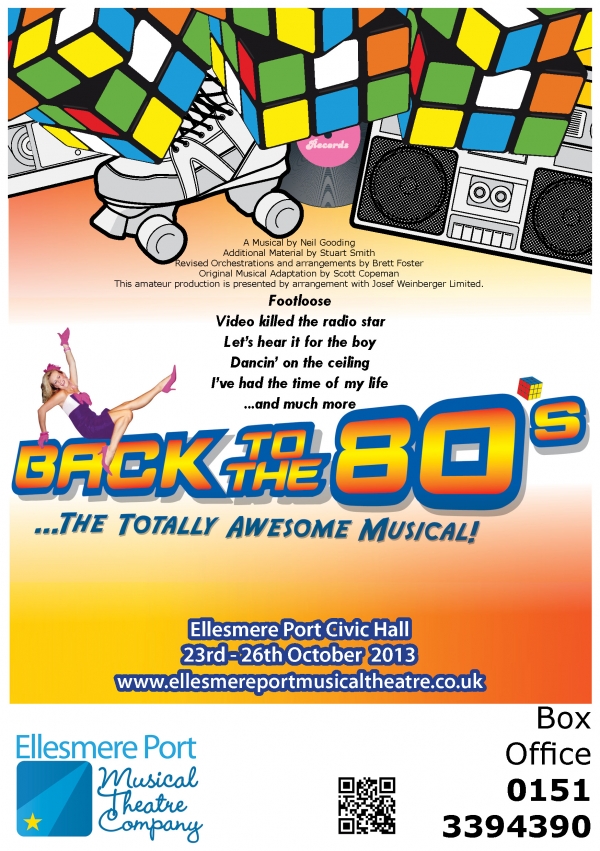 22nd October - 25th October
In October 2013, EPMTC is taking us BACK TO THE 80s!
Feauturing the hit songs: Footloose, Video killed the radio star, Let's hear it for the boy, Dancin' on the ceiling, I've had the time of my life and loads more.
23rd to 26th October 2013
Ellesmere Port Civic Hall
Book your tickets now, online at http://www.ticketsource.co.uk/epmtc/ or call the box office on 0151 3394390
Production Team
Director/Musical Director: Craig Price
Director/Choreographer: Kayleigh Melluish
Credits
A Musical by Neil Gooding
Additional Material by Stuart Smith
Revised Orchestrations and arrangements by Brett Foster
Original Musical Adaptation by Scott Copeman
Synopsis
Set in the USA, Back To The 80's tells the story of the senior class of William Ocean High in the 1980's. 17-year-old Corey is madly in love with Tiffany Houston, one of the coolest girls in the school. However, she is too busy mooning over Michael Feldman, the hottest guy around. Michael and his friends are athletic and good-looking - the kind of guys that Corey and his two best friends dream of being. However, while they may not be the coolest guys in school, they are still one up on Fergal McFerrin, who believes the crazy notion that one day CD's will replace cassette tapes…
The plot follows Class President Elections, the arrival of several new students, and the teachers' own issues. Throw in a Star Wars dream sequence, high-energy dance routines, the obligatory 80's party scene, as well as some of the most popular songs ever written, and the result is a musical that will delight and amuse an audience of any age, but especially those who remember the 80s like they were yesterday!
CAST
Corey Palmer Snr: Andy Nickson
Corey Palmer Jnr: Chris Pacitti
Alf: Damian Riverol
Kirk: Matthew Barlow
Tiffany: Klare Roberts
Cyndi: Jennifer Connah
Mel: Leah Dovey-Evans
Kim: Gill Watson
Michael Feldman: Gareth Earl
Lionel: Kyle Hickman-Germon
Huey: David Bartley
Feargal: Dominic Melluish
Eileen: Sara Haynes
Laura: Ruth Carpenter
Debbie: Anna Whittaker
Mr Stevie Cocker: Ian Devereux-Roberts
Ms Sheena Brannigan: Liz Legerton
Featured Singers: Mary Carpenter
Rosie Young
Donna Dale
Janette Heydon