9-5 - The Musical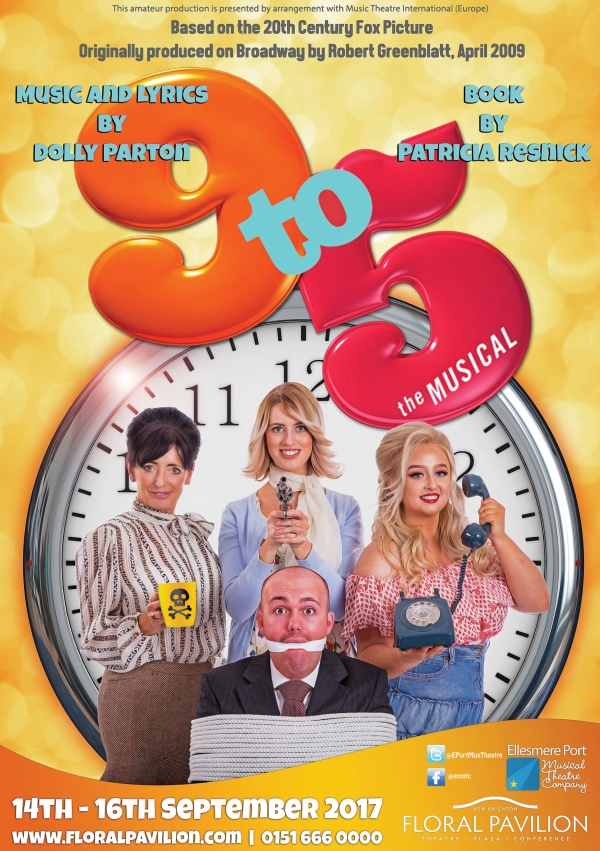 How to get there
14th September - 16th September
In September 2017 EPMTC will be "shining like the sun" as they 'tumble out of bed and stumble to the kitchen" to bring you the hilarious hit musical, 9-5!
9-5 - The Musical
Floral Pavilion, New Brighton
Thursday 14th to Saturday 16th September 2017, 7:30pm
Tickets £18.50* (£17.50* conc)
*Booking fee added at point of sale, no fees to friends of the Floral.


About the show
Based on the 1980 film, 9 TO 5: THE MUSICAL is an uproarious tale of what happens when you team up to take care of business. With a Tony® Award and Grammy®-nominated score by the legendary Dolly Parton and book by Patricia Resnick, our audiences will be tapping their toes the whole way home. It may be a man's world, but that won't stop three girlfriends from conspiring their way to the top in this hilarious tale of friendship and revenge.
Violet, Doralee, and Judy are coworkers, each of whom is struggling with the monotony of corporate life. Working at Consolidated Industries is mundane at best, especially under the management of Franklin Hart, Jr. Domineering and piggish, Hart is the nemesis of many of the company's female employees. When the girls make imaginary plans to get even, they could never have foreseen what trouble would come their way!
Production Team
Director: Donna Dale, Asst Director: Damian Riverol
Musical Director: Craig Price
Choreographer: Pam Watson
***
Cast
Violet Newstead - Liz Legerton
Judy Bernly - Sara Haynes
Doralee Rhodes - Ciera Evans
Franklin Hart, Jr. - Gareth Earl
Roz Keith - Hayley Dale
Joe - K Lopez
Dwayne Rhodes - Chris Pacitti
Josh Newstead - Joe Mears
Missy Hart- Emma Humphreys
Kathy- Sophia Bunning
Margaret- Chloe Donely
Bob Enright - Martyn Davies
Dick - Damian Riverol
Detective- Matt Weaver
Tinsworthy- Vince Stonely
Doctor - Mandy Helsby
Candy Striper/Nurse - Lisa Dunne