Sister Act: Reviews
26th September 2015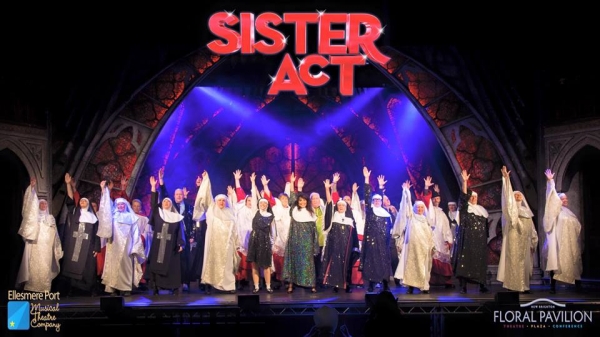 Sister Act - Floral Pavilion, New Brighton
17-19th September 2015
Wirral Globe
http://www.wirralglobe.co.uk/leisure/wirraltheatrearts/13769279.Hot_off_the_stage__Sister_Act_at_the_Floral_Pavilion____a_joy_from_start_to_finish_/
Hot off the stage: Sister Act at the Floral Pavilion - 'a joy from start to finish'
IT'S been quite a hearty arts week here in Wirral.
I enjoyed a preview of Birkenhead Operatic (BOST) and their electrifying version of Dr Jekyl and Mr Hyde.
And I saw Billy Hui and his marvelous Sing Me Merseyside choir in their Variety Show.
Both at the Floral Pavilion. Here , until Saturday, is Sister Act from the Ellesmere Port Musical Theatre Company EPMTC.
This is a musical tale of a nightclub singer who inadvertently sees a US gangland killing so, under advice from the cops she seeks sanctuary in a convent.
On a wing and a prayer she makes some clerical errors. Her interaction with the sisterhood is the main thread of this show which celebrates life, faith, love and friendship.
The musical by Alan Mencken and Glenn Slater became a global hit for Whoopi Goldberg.
Here everyone is a star. The humour comes from the fact our heroine becomes the female equivalent of Gareth Malone. She turns songs of praise into top of the pops.
Delightful Dolores is played with gusto by Liz Legerton. Director Donna Dale makes this a truly wonderful ensemble production.
The true stars are the all singing dancing nuns aided by some inspired altar boys, fantasy dancers, hookers, waitresses and hobos.
Joy McIntosh as Mother Superior is divine and hail to all the Marys. Musical director Craig Price and choreographer Pam Watson hit the right balance - and full marks to a fantastic stage set design and superb lighting crew.
This two-act, two and half hour production is a joy from start to finish. Praise be to this exciting company who aim to appear at the Pavilion every September.
These nuns enjoy getting into harmless bad habits. The 20 songs are also uplifting.
I never knew what nuns wore in bed ...you find out here and believe me you will laugh out loud.
Costumes are faultless so praise to the wardrobe co-ordinator.
Get thee to this nunnery now.
Amen! Globe rating: 9/10. Heavenly.
NODA, NW
SISTER ACT Ellesmere Port Musical Theatre Company.
When an audience spontaneously is upstanding at the end of a performance you can safely assume that it was an outstanding production. Outstanding however is not a word that does justice to this show. Look up " outstanding" in Roget's Thesaurus and pick a host of words to give you a flavour of just how good it was. I have not seen the film but if it was better than this.. WOW.
What a production team was behind this feast for the eyes and ears; their experience and expertise showed in every aspect of the production. Director Donna Dale brought out all the magic of the story and used her cast to wonderful effect ably abetted by Choreographer Pam Watson who gave us some great movement and considerable laughter in keeping with the story .
Musical Director Craig Price as usual rose to the occasion, aided by assistant Carly Dallen in her role as vocal coach. The fine musicians under Craig's tutelage were never intrusive and the singing throughout the performance was excellent. I must say a word here about the lighting, sound , scenery and all the back stage crew together with Wardrobe who did more than justice to their task and provided strong support to the players.
What of the players? Liz Legeton, wonderful as Deloris Van Cartier, Joy McIntosh a superb Mother Superior and Wesley Wharton who brought Pathos and Charm to his role.A trio of "rogues" in Damian Riverol, Chris Paquitti and Kortez Lopez who favoured us with some memorable comic moments as did Many "Sisters " Rebecca Searle, Julie Rooney, Pam Watson, Hayley Dale and Elaine Cooper al of whoml shared the name Mary and were an absolute a joy. in fact we had a superfluity of nuns in the cast who were all quite exceptional. Colin Hudson made a convincing gangster boss and Andy Nickson was as reliable as ever as the Monsignor. Such a talented cast who all deserved the thunderous reception they got at the close.
If you get a chance to see this show don't miss it. Great dialogue and songs and if you're lucky it will be by a society as magnificent as Ellesmere Port Musical Theatre Company.
https://www.noda.org.uk/regions/north_west