Annie OPEN AUDITIONS
7th May 2019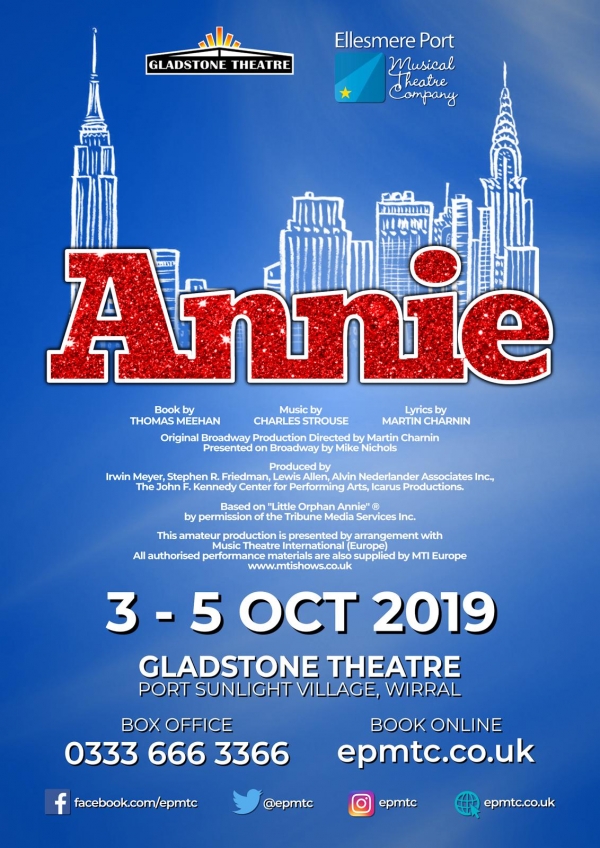 Our Autumn 2019 production will be Annie, performed at the Gladstone Theatre from 3rd to 5th October 2019.
The production team for Annie are Director & Choreographer, Rob Stevens and Musical Director, Craig Price.
Pre-audition workshops and information sessions:
Thursday 30th May 7.30pm - First intro night and workshop with Rob - for everyone children and adults
Monday 3rd June 7.30pm - Intro to music and audition pieces with Craig - for adults and those looking to audition for the role of Annie
Thursday 6th June 7.30pm - Further recap of audition pieces with Craig
Open Auditions:
We are holding two auditions days, one for adults and one for Annie and the children:
Sunday 16th June 7.00pm - Adult auditions
Sunday 23rd June 2.30pm - Children's workshop auditions for Annie and the orphans.
All auditions and pre-audition sessions will take please at Trinity Methodist Church, Whitby Road, Ellesmere Port, CH65 0AB.
Please come along to one of the pre-audition sessions if you are interested in performing with us.